8 Greatest New York Vogue Week Magnificence Appears
Summer time is nearing an finish however because of New York Vogue Week, we're already trying ahead to the spring/summer season '23 season. Whereas we'll have to attend a number of months earlier than we are able to put on the bodily garments, fortunately we are able to recreate the sweetness tendencies proper now. Each season we're impressed by the hair and make-up seems we spot backstage, so we determined to ask the specialists behind them for the if-you-know-you-know ideas, methods, and merchandise wanted to nail the look.
Tip #1: For a modern smokey eye, Q-tips are needed.
Photographs: Getty Photos
At Jason Wu, lead make-up artist Diane Kendal paired a contemporary, '60s-inspired winged smokey eye with the ethereal items that traipsed down the runway. In terms of nailing this look, it'll most likely take a couple of tries, so that you'll want Bioderma and a variety of Q-tips available. A pointed Q-tip dipped in a small quantity of make-up remover will clear the mess very quickly.
Tip #2: Making use of moisturizer over your highlighter will give your pores and skin a subsequent degree glow.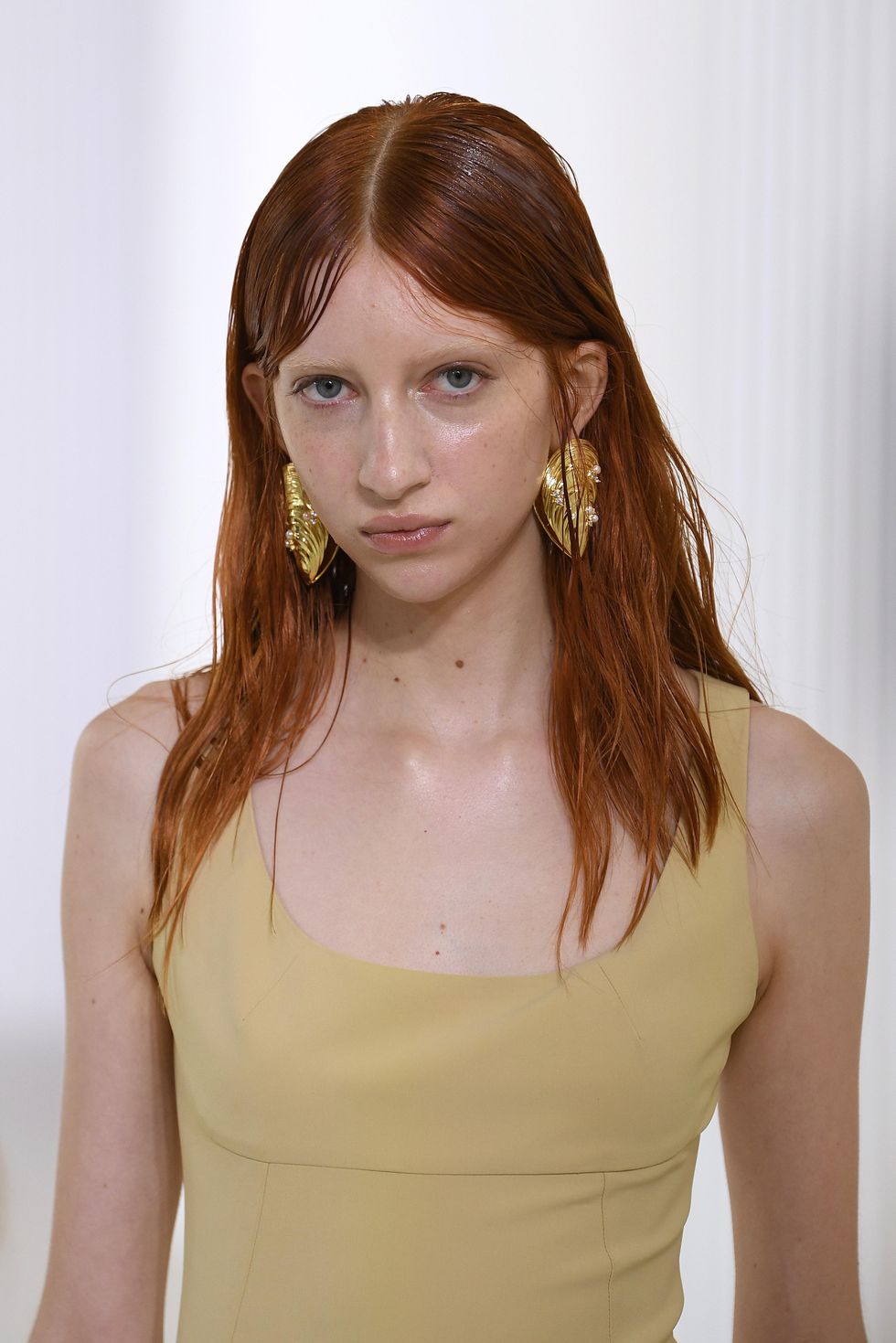 Photographs: Getty Photos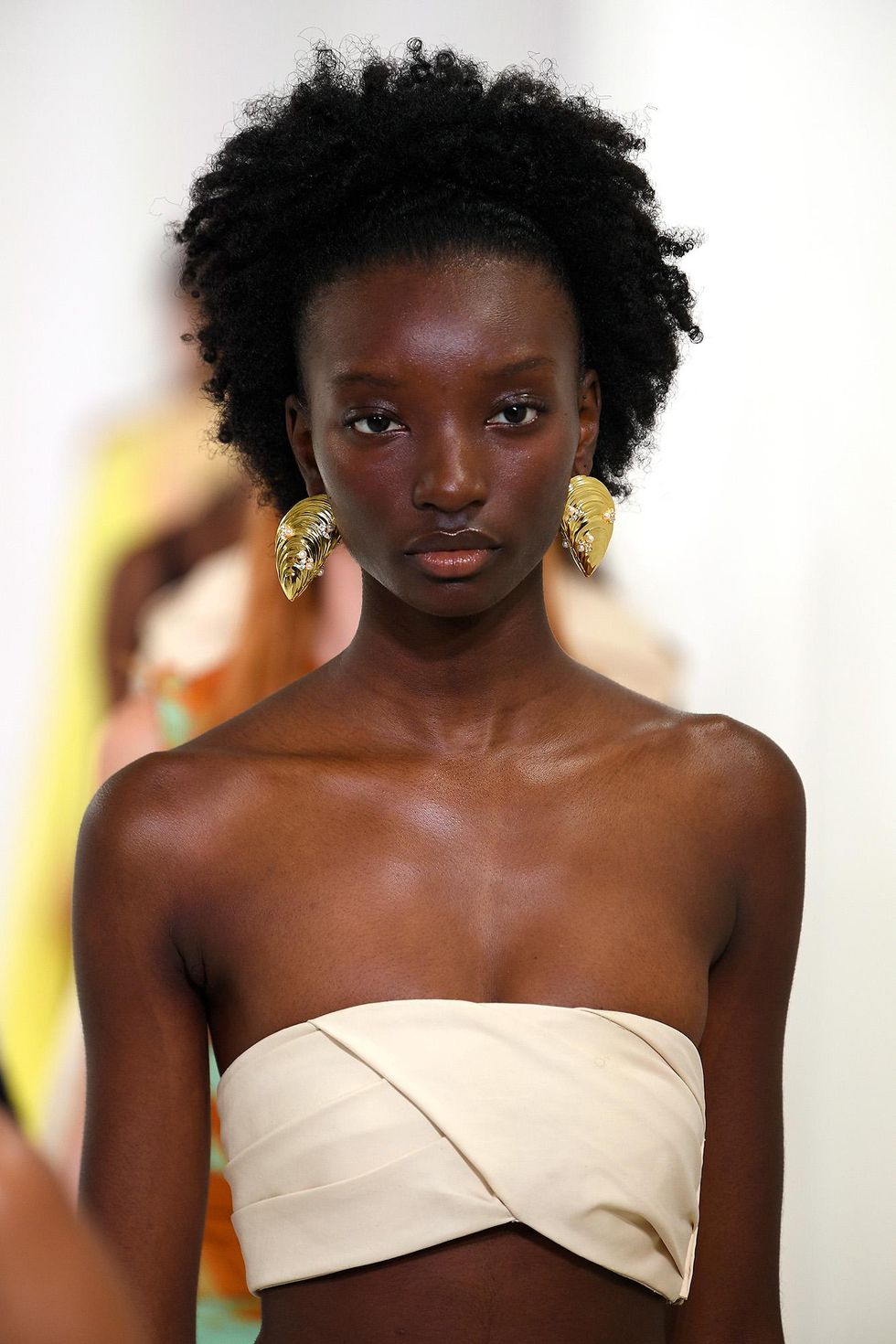 We're all the time chasing a glow, and this season at Jonathan Simkhai it was further dewy. "It's all concerning the pure really feel of pores and skin coming by way of," says lead make-up artist Diane Kendal. She prepped the pores and skin with Noble Panacea Vitamin C Booster blended with the Prime Radiance Serum and stored make-up minimal with an emphasis on highlighter. Her final trick nonetheless, was within the of entirety. "We're going again in with a moisturizer and dabbing just a little [along the high points] to provide that actually tremendous shiny dewy impact. Nearly just a little bit moist," she explains. If you wish to go above and past, you possibly can even combine your favourite highlighting powder into the cream earlier than tapping it in.
Tip #3: Flip your favourite eyeshadow right into a liquid liner by mixing it with some setting spray.
Photograph: Getty Photos
Daring colourful eyeliner has been having a comeback for a minute. However what occurs if the shade you need to use is in an eyeshadow palette? Properly at Monse, Sofia Tilbury directed the group to combine eyeshadow and setting spray to make a customized concoction. Then the artists took a precision brush and began flicking the colour out from the nook of the lid to create a pointy winged impact. The perfect half is as soon as the liquid dries it principally units itself.
Tip #4: For a piece-y bun, prep the hair with a serum.
Photograph: Getty Photos
The important thing to nailing a textured, piece-y bun is all within the merchandise you employ. At Jason Wu, lead stylist and Olaplex ambassador Jimmy Paul mixed Olaplex No. 9 Bond Protector Nourishing Hair Serum and No. 6 Bond Smoother to create a easy, brushed out look. "Utilizing your fingers, pull hair again right into a low pony, and safe," says Paul. "Braid the horse and safe it with elastic, then twist right into a low bun and depart the ends out. Safe with bobby pins and high off the look with Olaplex No. 7 Bonding Oil for top shine."
Tip #5: Use multiple shade of basis.
Photograph: Getty Photos
Truth: Nobody's face is only one shade. To stop your basis from trying flat, make-up artist Eve Marie recommends making use of a lighter shade within the heart of your face, then utilizing a deeper shade across the perimeter for a extra multi-dimensional end.
Tip #6: To excellent a slicked again bun, you'll want a make-up brush and a few hairspray.
Photograph: Getty Photos
Backstage at Christian Siriano, hair stylist Lacy Redway gave every mannequin what she describes as a Hollywood twist on the traditional Audrey Hepurn low bun. She prepped the hair with TreSemme Further Maintain Mousse and used the Dyson Supersonic dryer on medium warmth to blow the hair again. "As soon as the hair is dry, I safe it with an elastic after which use the Dyson Corrale to easy the hair with just a little little bit of hairspray," she explains. "A trick that I like to do is spray just a little little bit of hairspray onto a make-up brush after which use it to regulate flyaways."
Tip #7: The important thing to mastering a monochromatic look is all within the blush.
Photograph: Getty Photos
One of many 5 main seems at Alice and Olivia this season included a full face of pink which was meant to symbolize the blooming of a flower. Elyse Reneau, Government Director of International Magnificence at Too Confronted says the important thing to doing glam with only one hue comes all the way down to a single product. "The simplest strategy to do a monochromatic look is to take your blush and use it as an eyeshadow," says Reneau. "Place it within the crease and softly diffuse it with a giant fluffy brush."
Tip #8: Hair oil and gel are the important thing to reaching a moist hair look from dwelling.
Photograph: Marni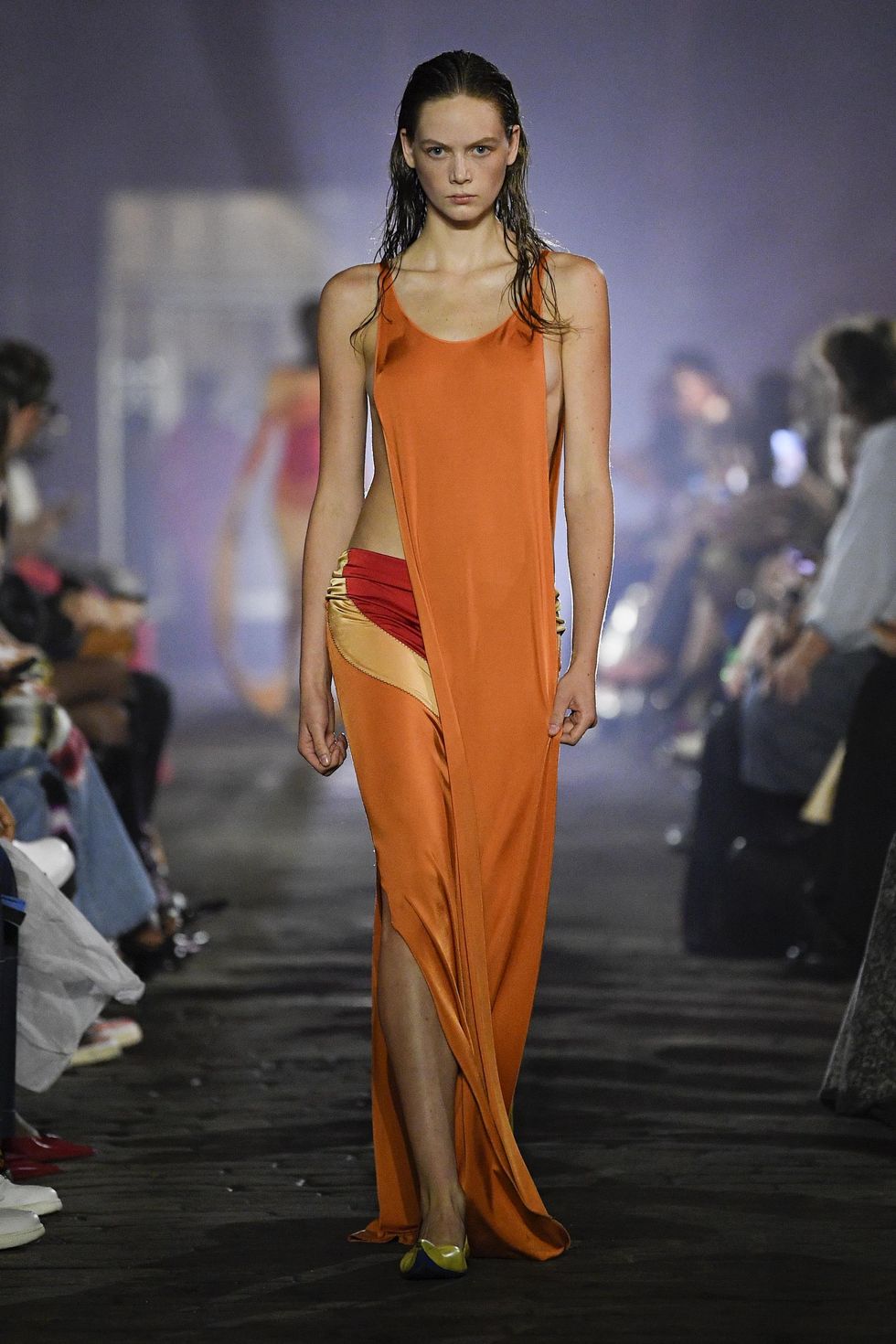 The moist hair look was plentiful on the runway this season, Marni included. Though it seems easy and easy, there may be really a variety of thought into making this specific end final. The most important hack is utilizing two totally different merchandise; one on the roots and one from mid lengths to ends. "You want one thing to permit it to maneuver and be open on the backside after which one thing to carry up high," says hairstylist Holli Smith. Use a beneficiant quantity of gel on the roots after which coat the remaining with an oil or cream relying in your texture. Smith then hit strands with a Dyson Supersonic diffuser on low to set all of it collectively.
window.REBELMOUSE_ACTIVE_TASKS_QUEUE.push(function(){
var makeMonitor = (getStatus, cb, delay) => { delay = delay || 100; var monitor = () => { var time = +new Date(); var status = getStatus(); if (status) { return cb(status); } else { if (!stopMonitor && +new Date() - time < 30 * 60 * 1000) { monitorId = setTimeout(monitor, delay); } else { cb(false); } } }, cancel = () => { stopMonitor = true; clearInterval(monitorId); }; let monitorId, stopMonitor = false; return { start: monitor, cancel: cancel, }; };
var leftArrowCarrousel = makeMonitor( function () { return document.querySelector( ".shop-sidebar.shop-posts .posts-wrapper .slick-next" ); }, function (res) { res.addEventListener("click", () => { gtag("event", "Left Arrow Click", { event_category: "Shopping Module", event_label: "Previous product at carrousel", }); }); } );
leftArrowCarrousel.start();
var rightArrowCarrousel = makeMonitor( function () { return document.querySelector( ".shop-sidebar.shop-posts .posts-wrapper .slick-prev" ); }, function (res) { res.addEventListener("click", () => { gtag("event", "Right Arrow Click", { event_category: "Shopping Module", event_label: "Next product at carrousel", }); }); } );
rightArrowCarrousel.start();
var buyButton = makeMonitor( function () { return document.querySelectorAll( ".shop-sidebar.shop-posts .posts-wrapper .widget__product-buy-link-btn" ); }, function (res) { for (let button of res) { button.addEventListener("click", () => { gtag("event", "Buy button click", { event_category: "Shopping Module", event_label: `${button["href"]}`, }); }); } } );
buyButton.start();
var imageShopp = makeMonitor( function () { return document.querySelectorAll( ".shop-sidebar.shop-posts .posts-wrapper .widget__head a" ); }, function (res) { for (let image of res) { image.addEventListener("click", () => { gtag("event", "Image click", { event_category: "Shopping Module", event_label: `${image["href"]}`, }); }); } } );
imageShopp.start();
var productTitle = makeMonitor( function () { return document.querySelectorAll( ".shop-sidebar.shop-posts .posts-wrapper .widget__headline .widget__headline-text" ); }, function (res) { for (let product of res) { product.addEventListener("click", () => { gtag("event", "Product title click", { event_category: "Shopping Module", event_label: `${product["href"]}`, }); }); } } );
productTitle.start();
});
window.REBELMOUSE_ACTIVE_TASKS_QUEUE.push(function(){
window.REBELMOUSE_STDLIB.loadExternalScript("https://s.skimresources.com/js/150311X1615657.skimlinks.js", function() {
});
});
window.REBELMOUSE_ACTIVE_TASKS_QUEUE.push(function(){
let modDate = new Date (document.querySelector('.current--post .social-date-modified__text').textContent); let createDate = new Date (document.querySelector('.current--post .social-date__text').textContent); let m_names = new Array("January", "February", "March", "April", "May", "June", "July", "August", "September", "October", "November", "December");
function dateToMDY(inputDate) { var d = inputDate.getDate(); var m = inputDate.getMonth(); var y = inputDate.getFullYear(); return '' + m_names[m] + ' ' + (d <= 9 ? '' + d : d) + ', ' + y ; } document.querySelector('.current--post .social-date-modified__text').innerText = dateToMDY(modDate); document.querySelector('.current--post .social-date__text').innerText = dateToMDY(createDate); }); window.REBELMOUSE_ACTIVE_TASKS_QUEUE.push(function(){ !function(f,b,e,v,n,t,s){if(f.fbq)return;n=f.fbq=function(){n.callMethod?n.callMethod.apply(n,arguments):n.queue.push(arguments)};if(!f._fbq)f._fbq=n;n.push=n;n.loaded=!0;n.version='2.0';n.queue=[];t=b.createElement(e);t.async=!0;t.src=v;s=b.getElementsByTagName(e)[0];s.parentNode.insertBefore(t,s)}(window, document,'script','https://connect.facebook.net/en_US/fbevents.js');fbq('init', '1248680838922690');fbq('track', 'PageView'); }); window.REBELMOUSE_ACTIVE_TASKS_QUEUE.push(function(){ window.REBELMOUSE_STDLIB.onElementInViewport({ threshold: 400, selector: "video", oneTime: true, onIntersect: function(entry){ var element = entry.target; element.setAttribute("allow","autoplay"); element.loop = true; element.muted = true; element.autoplay = true; element.setAttribute("playsinline","true"); //element.controls = false; element.play(); } }); }); window.REBELMOUSE_ACTIVE_TASKS_QUEUE.push(function(){ let headings = document.evaluate("//p[contains(., 'Want more stories like this?')]", document, null, XPathResult.ANY_TYPE, null ); let thisHeading = headings.iterateNext(); console.log(thisHeading.textContent, 'head changed'); thisHeading.innerHTML = "More From Coveteur"; thisHeading.style.fontFamily= 'Playfair Display'; thisHeading.style.fontSize="24px";
});
window.REBELMOUSE_ACTIVE_TASKS_QUEUE.push(function(){
IcreateElementChangeListener('.shop-posts .widget__headline-text', (el)=>{
el.setAttribute("rel","nofollow");
});
});